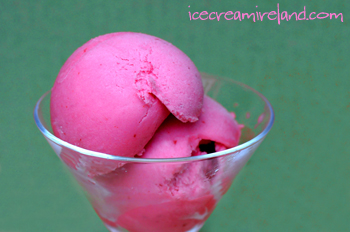 Here's something for the holidays – a sorbet that works well as a sorbet course, a dessert, or an alternative partner to the Thanksgiving or Christmas turkey. Cranberries are tart and beguiling – an explosion of flavour, and the sorbet is the same.
If you want to add a bit of orange, you can do so by substituting 150 ml orange juice for 150 ml water.
Murphys Cranberry Sorbet
Ingredients:
260 g sugar
400 ml water
450 gm fresh or frozen cranberries
150 ml cranberry juice
What to do:
Cook the water, sugar and cranberries together until they reach a low boil.
Cover and cook for 15 minutes.
Remove from the heat.
Use a blender or hand blender to blend until smooth.
Pass through a fine sieve to remove the seeds and bits of skin, using a rubber spatula to press as much pulp through as possible.
Cover and refrigerate until it is completely cool.
Add the cranberry juice.
Freeze using a domestic ice cream maker until it has a semi-solid consistency. This could take up to 20 minutes.
Transfer to a freezer-proof container and freeze until it is solid.
Otherwise, simply place in a covered, freezer-proof container and place in the freezer, stirring every two hours to break up the ice crystals.
Remove from freezer and allow to thaw for about 15 minutes before serving.
Enjoy!
Yield: 8 Servings
Technorati tags: cranberry, holiday, sorbet, ice cream, recipe