I'm delighted to announce that we now have a mini Lorge chocolate shop in our Killarney Dessert House.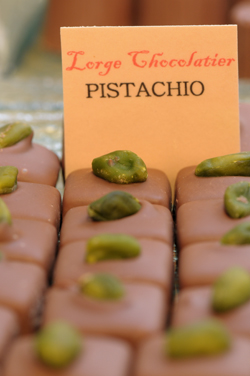 For those of you lucky enough to have visited Benoit Lorge's shop on the road from Kenmare to Bantry or found his chocolates elsewhere, you'll know how happy I am. 
We've had Lorge Chocolates in our shops in a small way, but over the Christmas season we will have a much wider range as well as a delicious selection of loose truffles for mixing and matching or devouring with a coffee.
For the holiday season, Benoit has made chocolate Santas, snowmen, and best (and most random) of all, he has chocolate boots and shoes filled with truffles. We also have his chocolate bars and award-winning nougat.
There's usually not much chocolate on offer in Killarney, but that's definitely changed. Not only do we have Lorge, but we still have our own chocolates, Valrhona bars, and a selection from other Irish artisan producers…