Chocolate in Temple Bar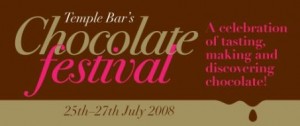 For those of you lucky enough to be in or around Dublin, there's a chocolate festival on in Temple Bar the 25th-27th July. How I wish I could be there! I'd bring along some of our chocolate sorbet… More details here.
Technorati tags: chocolate, festival, Temple Bar, Dublin
This entry was posted on Tuesday, July 22nd, 2008 at 11:14 am and is filed under Chocolate. You can follow any responses to this entry through the RSS 2.0 feed. You can leave a response, or trackback from your own site.