Eason's Offering 10% Discount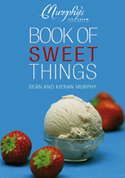 While Amazon keep frustrating us by listing our book as "out of stock," I've just been told that Eason's is offering 10% off, when you buy it on-line (here)… You can also pick order it from Mercier or Hugh's and Hugh's (or support your local bookshop and buy it locally (in Ireland).
If anyone has any ideas of how to convince Amazon to stock a book, I'd love to hear it…
Technorati tags: cookbook, Book of Sweet Things, ice cream
This entry was posted on Tuesday, July 15th, 2008 at 10:39 pm and is filed under Book. You can follow any responses to this entry through the RSS 2.0 feed. You can leave a response, or trackback from your own site.