It's a Thing of Beauty!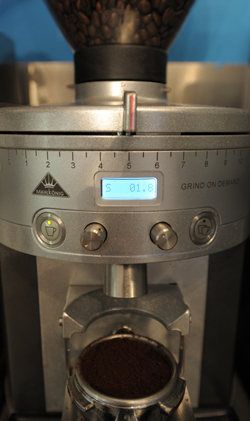 To try to make our coffees more consistently delicious, we've taken the plunge and bought a pair of "grind on-demand" coffee grinders for our shops. What a difference already! Not only do they drop a perfect dose of gound espresso beans into the group head each time (over-packing is a huge cause of burning and bitterness in coffees), but they are much more silent and seem to grind up an incredibly tasty shot.
It should also cut down greatly on waste. Highly recommended (so far) for anyone in the business…
Technorati tags: ginder, coffee, espresso, on-demand
This entry was posted on Monday, June 30th, 2008 at 7:26 pm and is filed under Coffee. You can follow any responses to this entry through the RSS 2.0 feed. You can leave a response, or trackback from your own site.