Kerry Weather Report and the IIA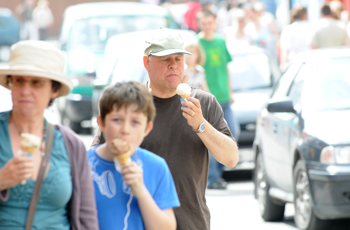 I joked in my last post from rainy Barcelona about having to come back to Ireland for the sun, but I was right! People lucky enough to have come down to Kerry for the June Bank Holiday weekend have found a good deal of sunshine and summer weather, and tomorrow is supposed to bring more of the same.
It's really busy in town, so I don't have time to write much. I have to get back to the shop to scoop ice cream!
However, I need a bit of advice needed from those of you up on the technical scene in Ireland – I have been invited to join a "Social Media Working Group" formed by the IIA to "support businesses in the development of strategies for engaging with social media, including blogging, social networking, community sites, RSS, tagging, and podcasts." It was the first I had heard of them. What do you think? Would such thing be worthwhile? I'd appreciate any insights…
This entry was posted on Saturday, May 31st, 2008 at 4:34 pm and is filed under Musings. You can follow any responses to this entry through the RSS 2.0 feed. You can leave a response, or trackback from your own site.