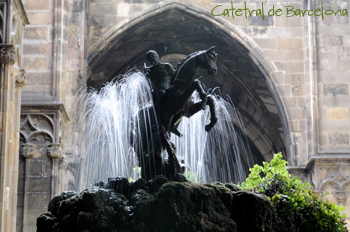 With the days either rainy or cloudy, I´ve continued to spend my time in Barcelona walking and eating. The Catedral de Barcelona (photo above from the garden) made a welcome respite from the drizzle.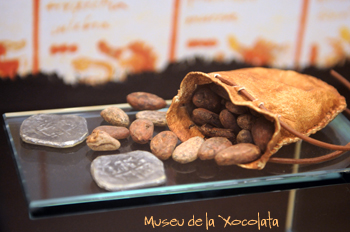 So did the Museu de la Xocolata, which doesn´t really have that much to offer, but is a must for a chocoholic like myself.
There´s a little walk through history, including the use of cocoa beans as money (photo right), a slide show that I couldn´t make work, and some sculpures of chocolate that might be impressive in terms of craft but wouldn´t exactly win art awards.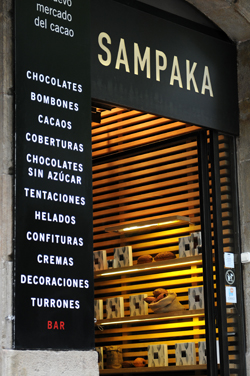 Being Barcelona, a good amount of the exposition was given to FC Barcelona, although I couldn´t quite understand the connection between football and chocolate. Perhaps the best part of the museum is the shop, where you can buy all sorts of artisan chocolates or drink a cup of the hot stuff.
Another place definitely worth checking out if you like chocolate, is Cocoa Sampaka. There is a shop as well as a cafe in the back, and you are sure to come out with a bounce in your step.
I think it´s my favourite chocolate shop in Barcelona.
What else can I report? Tulanian´s suggestion of Bar Central at the back of Mercat Boqueria was spot on. Definitely worth a visit if you like seafood.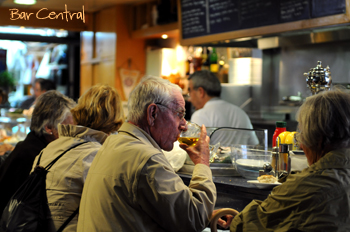 Many of the other places I´ve gone have been little hole in the wall places that my friends here have brought me. All of them good and interesting.
I had a beer of homage in Manu Chao´s pub.
Now I have one more day.
Spain has been great but too rainy. I need to go back to Ireland for some sun!