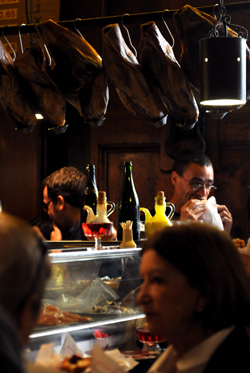 There's so much I could write about here in Barcelona, but I'll keep it somewhat brief. What strikes me more than anything, is how this city revolves around eating and drinking. It truly is a food and drink culture.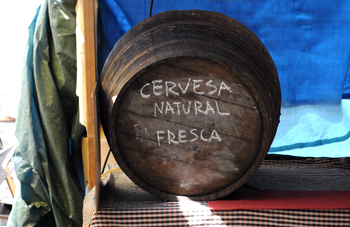 Between the restaurants, tapas bars, markets, cafes, and snack shops, there is very little danger of going hungry or thirsty. People eat standing up, walking, sitting down, or any combination of the three. It is also amazing to me how happy people are to have a drink as well – at any time of the day. When I go in for my breakfast coffee, it seems quite normal for business people to be chatting over a beer and a croissant. 
The top photo shows a place my Spanish friends here brought me to show me a real old-school tapas bar. The most expensive item on the menu is about 3 euro, and the drink choices are cava (sparkling wine) or red wine.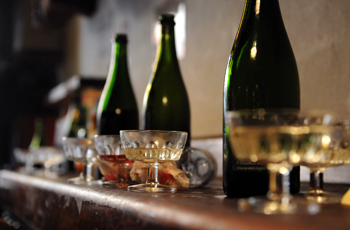 I'd give you the name of the place, but it doesn't have any sign outside the door, and my friends had no idea what it was called, assuming it's called anything.
If you want to find it, go to Carrer de la Reina Cristina (by the water, and only a block long) and look for the people spilling out onto the street. Seemingly it's always packed. 
I'm happy to report, though, that between the eating and drinking, I did manage to attend an outdoor concert of Juan Moneo at the Flamenco Festival that's on at the moment. Needless to say, there was a convenient pavillion selling sandwiches (along with the booze) in case the music went on too long and people began to feel peckish. I ordered a beer. Perhaps worried that I wasn't eating, they gave me two.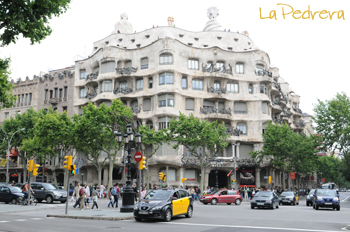 Today, I felt the need to walk off the calories, so I followed your suggestions and went for a Gaudi stroll. His buildings are certainly very impressive and makes one wish for more interesting contemporary architecture at home.
It's quite amazing to wander down a street and encounter his soaring curves and sense of fun. 
The Sagrada Familia, although astonishing in scale, didn't really do if for me, as the church remains unfinished and is basically a construction site.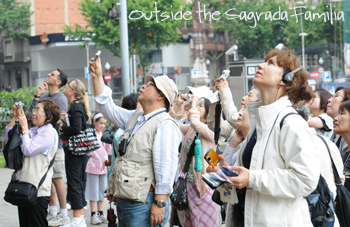 There were no shortage of people, however, delighted to part with 8 euro to photograph scaffolding and mesh-covered walls and be jostled by overwhelming crowds. Maybe I made the mistake of going on a Saturday and encountered more visitors than usual, but I think it was the worst-spent money of my trip.
Much more satisfying was Parc Guell, commissioned by Gaudi's patron count. I spent a couple of very happy hours wandering around in amazement. Designated a UNESCO World Heritage Site, it is not to be missed, even though it's a bit out of town (bus 24 does the trick).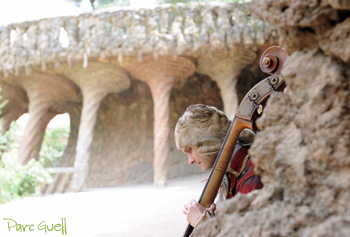 In the park, you can appreciate the genius of the master, and there are enough winding paths and little nooks that it's very possible to find a bit of peace and quiet as well (although musicians do tend to pop up). 
It's perhaps the best example I have ever seen of nature meeting design, so much so that you hardly know what is native rock, and what is art. If you climb up the hill to the very top, there are some wonderful views across the city.
Now I must leave this. I'm hungry again!
P.S. I missed the match, but the texts are pouring in. Up Munster!