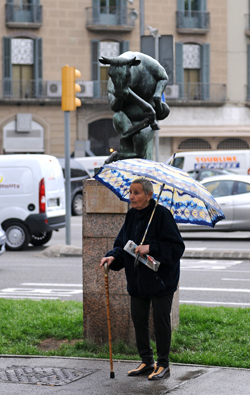 Even though I've been spritzed and sprinkled by the rain, I'm quite happy to be here in Barcelona! My feet are sore, my belly is full, and I'm feeling more relaxed already. And no, that's not me in the above photo.
Thanks, everyone, for your tips, and keep them coming!
Last night, after arriving and sampling a few tapas, I headed to the Gran Teatre del Liceu, the opera house. Sadly, there was no opera on, but I did get in some ballet. The Hamburg Ballet, under the direction of John Neumeier, performed Death in Venice. It was boisterous, controversial, and witty – words not usually associated with this art form. I liked it very well indeed.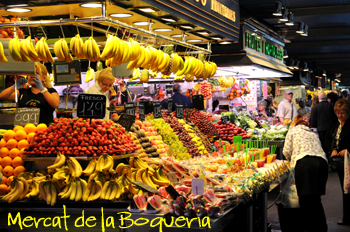 Today, after an excellent cafe con leche at the corner bar, I wandered. Of course, I had to start with La Rambla, the famous place to stroll along with all the other tourists.
A quick sidestep, and I found myself in the wonderful Mercat de la Boqueria, a teeming food market dating from 1200 AD. Very impressive, and some fresh mango juice gave me just the boost I needed.
Inside I also found Tulanian's hot tip: Bar Central, for grilled seafood, but it was a bit early in the day for me to think about savoury comestibles.
Instead I strolled through the Barri Gotic, the old Roman part of town, until I found the Picasso Museum. Not a bad way to escape the rain for a few hours. The museum is especially noted for his early work, and it gives quite an insight into the progression of an artist. I had a passable chocolate crepe in the museum cafe.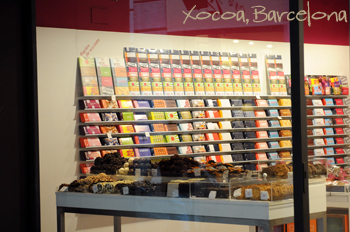 More wandering, then I met a friend who took me out for – no, not tapas – a feed of excellent sushi (do as the natives do). Apologies – I forgot to make a note of the name of the restaurant.
A couple of people suggested checking out Xocoa, a chocolate shop. Twist my arm. Kate – it still exists at Calle Petritxol 11, and I should know, because I stuffed myself!
I haven't mustered up the courage yet to try their wasabi-flavoured chocolate bar. It's in the bag, however, and I'll turn to it if supplies run short..