Irish Mail on Sunday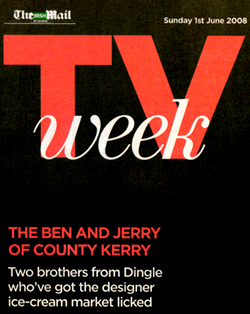 We have no fewer than 3 pages in today's Irish Mail on Sunday in the TV Guide supplement! There's recipes from the Book of Sweet Things and a bit on us. I don't think they have an on-line newspaper, so I can't point you to it.
Since they gave this web address instead of the company website, here it is if you're looking for it…
Technorati tags: Irish Mail, magazine, Sunday, ice cream
This entry was posted on Sunday, June 1st, 2008 at 12:01 pm and is filed under Awards, Press, Publicity. You can follow any responses to this entry through the RSS 2.0 feed. You can leave a response, or trackback from your own site.