Archive for April, 2008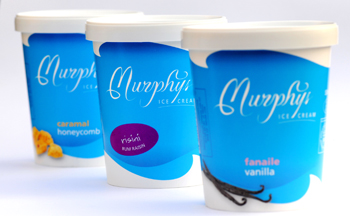 I had my first opportunities to play with my new toy – the Nikon D300, which arrived promptly from Conns Cameras in Dublin. I took the photo above for Food and Wine, who will have us as part of their "Hot 100″ in next month's issue, without hardly tinkering with the settings. Not bad for a camera straight out of the box!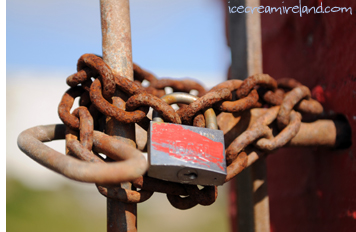 The thing I noticed first off is its ability to render colour accurately and dramatically. The reviews I had read pointed to this, and it really does seem to be excellent.
There's much more punch to the colours than I had with the D80, and it also seems to reproduce subtle variations and shades with much greater accuracy.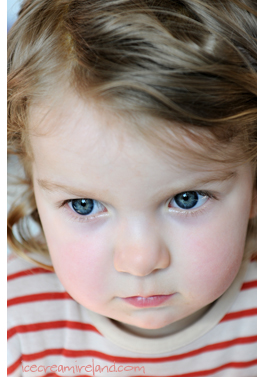 Of course, one of the first items on my agenda was running over to visit my little niece, Una, who (along with her brother Conor) has to put up with an uncle who keeps pointing a camera at her.
I think the photo on the right is a good example of what I was talking about above – there is good colour detail on her quite pale face, with lots of pinks and whites, while at the same time her dark blue of her eyes look as they do in real life – not under-exposed.
Chances are with my previous cameras, the face would have been over-exposed or the eyes too dark.
I should point out, as well, that all of these photos had only very minimal adjustments in Photoshop. I hope do be spending a lot less time tinkering on that particular program!
The final test was to see how it handles very low light. I had heard that the D300 is much better in low-light situations (although naturally not as good as the D3, which is meant to be astonishing).
Low light is a big issue here in Ireland, since so many of the days are positively murky, and I love using natural light if at all possible.
I took this photo of Gatsby, the ice cream cat, at twilight using 1000 iso, and the shot is perfectly usable. There is some noise, but not nearly as much as I would have expected.
All in all, I'm very impressed with the camera, and I can't wait to play some more. I don't think I'll have any excuses at all if my photos don't improve!
Technorati tags: Nikon, camera, D300, photography, review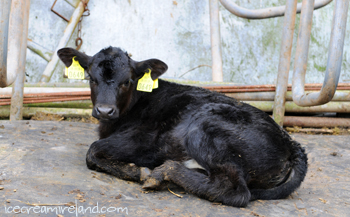 This has been a hard week, and it's only Wednesday. First a freezer failed, and we lost a lot of ice cream, and then we had news that Fresh Supermarkets in Dublin are thinking about dropping us. If you buy your Murphys Ice Cream at Fresh, please make your displeasure known to the manager!
However, there is something that cheers me up each spring, and that is when I hear from Colm, the farmer who supplies us with Kerry Cow milk, telling me that the first of his Kerry cows has given birth. It means that we'll soon again have a regular supply of rare and delicious milk for the summer season.
I always drive over to meet the first one, and it always leaves me delighted. For me, it puts everything else in perspective…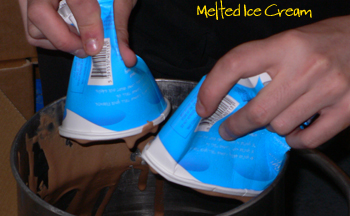 I try to keep politics off this blog, but this story deserves attention:
The Green Party announced today that they are considering bringing a motion to the Dail that would ban freezers in Ireland. The ban is set to reduce carbon emissions, but Irish industry is less than impressed, stressing the likelihood of job losses. According to Green Party spokeswoman Deirdre De Gruen, however, the ban on freezers that could come into effect as early as January 2010 would play a major part in reducing Irish carbon levels to new stringent EU targets.
"We were elected to address climate change and get on with the business of government," she said. "This bill will have a major impact on the environmental health of Ireland."

According to activists, eating fresh foods instead of frozen foods would save up to 30 million tons of carbon through savings in electricity and diesel on freezer vans. A total ban on freezers would also result in a significant reduction of waste, as freezers cannot be recycled. In addition, it would have positive health implications, pushing consumers toward fresh produce. Even noted organics champion Prince Charles has weighed in on the issue.

"Food should come fresh from a farmers market or an organic farm," he told a British broadsheet recently, "not from a little tin or pot. I would love to see Buckingham Palace freezer-free and Camilla agrees."

So are refrigerators next, and could we survive without our frozen peas and ice cream? According to Government sources there are no moves yet to put a freeze on fridges, and surviving without a freezer might be easier than you think. Almost half of people surveyed by this paper couldn't identify the contents of their freezers and 32.5% stated their freezers only contained left-overs that would never be consumed.

Not everyone is convinced, however, especially the fishing and ice cream industries. Small business consultant and representative David Montague claims such a bill would jeopardise as many as 1,000 Irish jobs and could have serious consequences for the economy.

"We will be mounting a campaign to stop this mis-guided motion before it ever reaches the floor of Government buildings," he said.

So will business win out or will frozen fish, peas and ice cream simply melt away? According to the Green Party, there could be special exemptions for food producers and outlets. Chippers might be allowed frozen fish that comes from EU-designated disadvantaged areas, for example, and ice cream makers could still operate if they use alternative power sources.

"Change is not always comfortable, but it is time to do the right thing," Ms. De Gruen said.
From the Muster Daily Express.
Note: Now that April Fools is past I will add that this was only meant for the day and there is no truth in this whatsoever (as far as I know!)
Technorati tags: freezer ban, Green Party, ice cream
You are currently browsing the Ice Cream Ireland blog archives for April, 2008.
Recent Comments

Grannymar: Sounds wonderful, Kieran, but I feel left out. Maybe by the...
Grannymar: Wrong colour for today, Kieran! Now I have an excuse to go down to...
Courtney: This sounds extremely appetizing if you are a fan of fresh mint,...
Courtney: This sorbet looks really light and perfect for a summer occasion....
Courtney: This ice-cream sounds perfect for the spring and summer seasons....
Courtney: This butterscotch recipe looks very interesting. The first thing...
Courtney: This recipe looked really good which is what initially grabbed my...

Recent Posts

Categories

Archives