The First Kerry Calf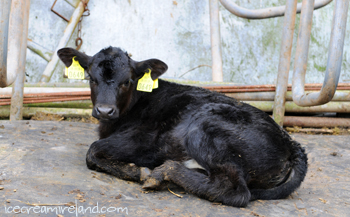 This has been a hard week, and it's only Wednesday. First a freezer failed, and we lost a lot of ice cream, and then we had news that Fresh Supermarkets in Dublin are thinking about dropping us. If you buy your Murphys Ice Cream at Fresh, please make your displeasure known to the manager!
However, there is something that cheers me up each spring, and that is when I hear from Colm, the farmer who supplies us with Kerry Cow milk, telling me that the first of his Kerry cows has given birth. It means that we'll soon again have a regular supply of rare and delicious milk for the summer season.
I always drive over to meet the first one, and it always leaves me delighted. For me, it puts everything else in perspective…
Technorati tags: breed, ice cream, farm, cow, Kerry, Dingle
This entry was posted on Wednesday, April 2nd, 2008 at 11:34 am and is filed under Ingredients. You can follow any responses to this entry through the RSS 2.0 feed. You can leave a response, or trackback from your own site.