When is a Pirouette a Tuile?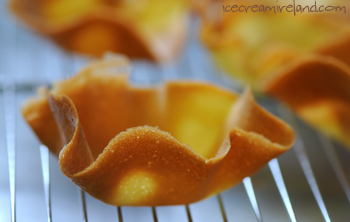 In reponse to my last post about pirouettes, Donal very helpfully pointed out that the cookies could just as easily be shaped around the bottom of a glass, making a cookie basket as a vehicle for ice cream. I tried it, and indeed he is right (not that I doubted him for an instant). The only issue is that you have to work very quickly indeed before the cookies harden.
I started thinking about the recipe, and I thought it is very similar to a tuile (meaning "tile" in French). In fact, the ingredients and process is virtually identical, except generally you'd shape a tuile over a rolling pin. I guess the only difference is the shape. So what is a this? A Panier?
Technorati tags: pirouette, cookie, tuile, baking
This entry was posted on Wednesday, April 16th, 2008 at 6:58 pm and is filed under Tips & Tricks. You can follow any responses to this entry through the RSS 2.0 feed. You can leave a response, or trackback from your own site.