Sugar-Free Chocolate from Valrhona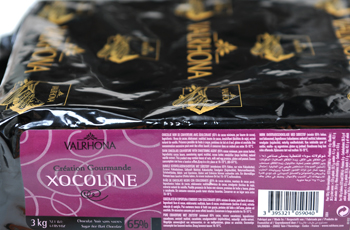 I've just received 3kg of Xocoline, Valrhona's new sugar-free chocolate. We've been struggling to find a way to make sugar-free ice cream that is natural and meets our standards in terms of taste and consistency. Hopefully this will be a big step forward, and I'll start playing immediately with it.
As far as sugar-free chocolates go – it is by far the best I have ever tasted. It's fruity and sharp (65% cocoa content), and is very much a Valrhona product in terms of quality. I think there will be many interested chefs and many happy people who are on sugar-restricted diets!
Xocoline is available in Ireland through Odaios Food (trade only). Valrhona is planning to sell these as bars as well for retail customers, but as far as I know they are not available yet…
Technorati tags: chocolate, Valrhona, sugar free, Xocoline
This entry was posted on Sunday, April 13th, 2008 at 12:24 pm and is filed under Chocolate. You can follow any responses to this entry through the RSS 2.0 feed. You can leave a response, or trackback from your own site.