Will Spring Go Out Like a Lamb?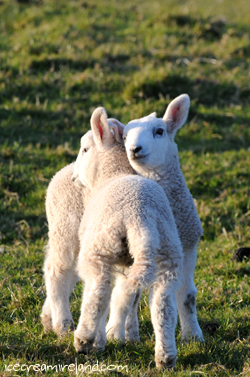 With Spring almost over, we're still freezing here in Ireland. Who knows how long it will continue, and one does worry whether summer has been cancelled as well. Still, as you can see from the photo above, the lambs are out and frolicking about, and seeing them always fills me with joy. A warm day or two can't be that far off…On a different note – for anyone interested, there's an article in PC Live magazine about Irish bloggers who have managed bookdeals. Among those covered are Twenty, Fiona, Grandad, (and me!).
Technorati tags: PC Live, magazine, spring, cold
This entry was posted on Wednesday, April 9th, 2008 at 6:41 pm and is filed under Awards, Press, Publicity. You can follow any responses to this entry through the RSS 2.0 feed. You can leave a response, or trackback from your own site.