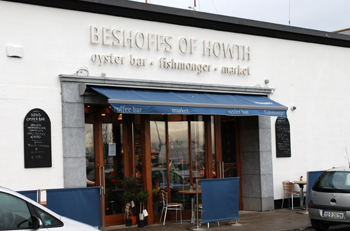 My brother and I spent the last few days driving around Dublin peddling our ice cream, and there's much activity in the food world – at least on a retail level. In Howth, Beshoff's (photo above) has opened a fantastic gourmet shop with a drool-inducing fish counter and a smashing oyster bar run by their neighboring restaurant, Ivans. We couldn't help dallying and had one of the tastiest lunches in recent memory. Well worth a detour.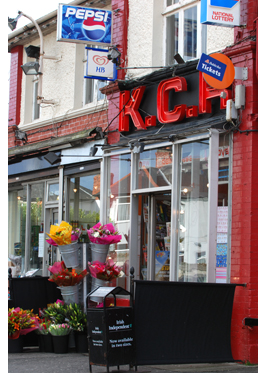 Fresh (who oddly don't seem to have a website) have added on a couple of stores, and Superquinn is also expanding. Their latest shop is in Ranelagh, with impressive glass frontage on the Main Street, and perhaps to counter this incursion, Morton's is in the process of expanding to double their size. Already one of the best shops in the country, Morton's will be even more stunning when it's complete.
Donnybrook Fair, meanwhile, have taken over the K.C.R. garage in Terenure, and its location is sure to make it a success. Exciting times for a foodie!
Finally, we headed to the Digital Media Awards last night, and I must congratulate Feebee who well deserved to take home the award for best blog. Unfortunately I didn't get to meet her or Deborah on the night, but we did share a table with some lovely people from Dublin Tourism, who won an award for a great idea – iWalks – podcast tours of Dublin. I could have used a good walk after all that eating and driving…
Technorati tags: Dublin, restaurant, food, tourism, ireland