Korova Cookies (Sables Korova)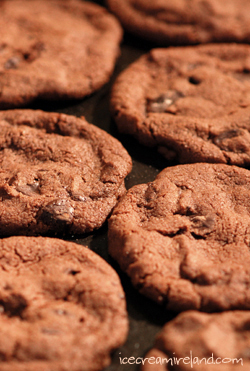 Feeling the need for a little chocolate burst last night, I went making some cookies. I have written about Pierre Herme here and here. The recipe came from him via Dorie Greenspan's excellent cookbook Paris Sweets, which is a compendium of desserts from Paris' best pastry shops.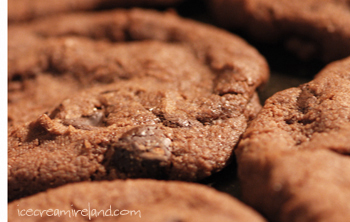 What makes these cookies really special is the inclusion in the ingredients of fleur de sel, hand-harvested sea salt that is less salty and more flavourful than regular salt. Although the recipe only calls for half a teaspoon, it's a distinctive flavour in the final cookie and really works well. (I actually have "fior di sale," which comes from Italy rather than France, but is the same idea.)
These are dead easy and will disappear very quickly indeed, so I highly recommend them. Rather than write up the recipe, I will refer you to Dessert First, where Anita has already done so. She rates them as her favourite cookies. I'd better eat the last few before I make up my mind!
P.S. – The photos don't really show how dark and full of chocolate they are. I took the photos late at night, and it's impossible for me to be patient and fiddle with lighting and camera settings when there are fresh cookies cooling!
Technorati tags: korova cookies, sables, chocolate, Dorie Greenspan, Pierre Herme
This entry was posted on Saturday, January 19th, 2008 at 1:53 pm and is filed under Tips & Tricks. You can follow any responses to this entry through the RSS 2.0 feed. You can leave a response, or trackback from your own site.