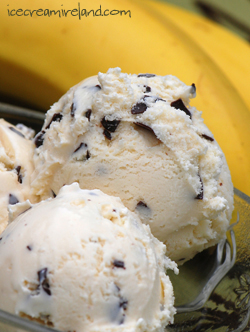 Here in Kerry, there are some fruits that are hard to get in the depth of Winter, but you can always find bananas. They might not always be ripe, and most of the time I will pass them by when in the supermarket, discouraged at the green peel. For, as bananas ripen, the starches turn to sugar, and once they do so, this sweet, complex, rich, and velvety fruit can boost energy and give any occasion a lift, especially when it's in ice cream.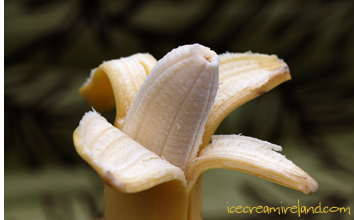 Customers in our shops often taste our banana ice cream and say, accusingly, "This tastes like real banana!" Yes, indeed. If the only banana ice cream you have ever eaten was bright yellow and tasted only of flavouring, you will be surprised by the decadence of this recipe. Needless to say, there's no food colouring (and why would there be? Not only do we never touch the stuff, but yellow banana ice cream doesn't even make sense. Banana peels are yellow, not the fruit!)
All fruits in ice cream should be ripe, and with bananas there is hardly such a thing as too ripe. If you have bananas left over with brown spots on the skin, perhaps ones that the kids wont touch or that even strike you as too soft, then they are perfect for ice cream. We have used bananas when the skin had turned completely brown, and the result was delicious. Bananas, oddly enough, ripen best off the vine, and if all you can find are greenish bananas, please wait to make this ice cream and let them ripen.
I have added some chocolate shavings because I love the bitter bite of dark chocolate with banana.
MURPHYS BANANA ICE CREAM WITH CHOCOLATE SHAVINGS
Ingredients:
130g sugar
5 egg yolks
240 ml cream
200 ml milk
15 ml (1 tablespoon) fresh lemon juice
3 ripe bananas
20 g good quality, dark chocolate
What to do:
Combine the bananas with the lemon juice and blend or mash until smooth.
Place in a small saucepan, add 30 g (two tablespoons) sugar, and cook over low heat, stirring all the time.
Don't over-cook. Once it has warmed, it should release a strong banana aroma, and that's enough!
Beat the rest of the sugar and egg yolks together until thick and pale yellow.
Bring the milk to a low simmer in a small saucepan. Remove from the heat.
Beat the milk into the eggs and sugar in a slow stream.
Pour the mixture back into the pan and place over low heat.
Stir continuously until the custard thickens slightly (around 65-70C) and just coats the back of a spoon. Don't over-heat, though, because at around 76C you will scramble the eggs!
Immediately remove from the heat.
Mix in the bananas.
Transfer the custard into a small container, cover, and refrigerate until cool (5C). 12. Whip the cream until it has doubled in volume (you should have soft peaks – don't over-whip).
Fold the cream (gently stir) into the custard.
Freeze using a domestic ice cream machine until it has a semi-solid consistency, or cover and place in the freezer, stirring occasionally to break up the ice crystals.
Use a vegetable peeler to create the chocolate shavings, and add them to the ice cream once it is reasonably solid, or they will all sink to the bottom.
If you're using a domestic ice cream machine, transfer to a freezer-proof covered container when the ice cream has achieved a semi-solid consistency (around 15 minutes). Place it in the freezer, and continue to freeze until it is solid.
Yield: 8 servings
Notes:
Of course, you don't have to add chocolate shavings if it's not to your taste.
To pasteurise the eggs, heat the custard to 73C and maintain that temperature for at least 5 minutes. Use a cooking thermometer, and keep stirring! If the custard goes any higher than 76C, the eggs will scramble. Immediately cover and place in the freezer until cool.
Technorati tags: chocolate, banana, dessert, ice cream, recipe