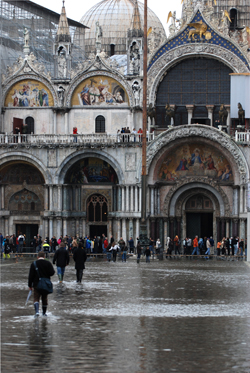 This morning at 8:00, sirens sounded in the city of Venice, waking me from quite a sound sleep. Fire? No, it means "aqua alta" in Venetian or floods. At full moon in the Winter, high tide often floods parts of the city, and we decided to head down to Campo S. Marco for a gander.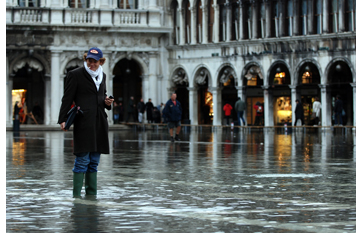 For those who think that Wellies are unfashionable, the sirens let Venetians know that it is time to don the rubber boots, they do it in style.
Not only do they manage to look just as good, but they clearly take pride in the fact that they can wade nonchalantly through the flooded squares, avoiding the crowds of shoe-wearing tourists on the raised gangways.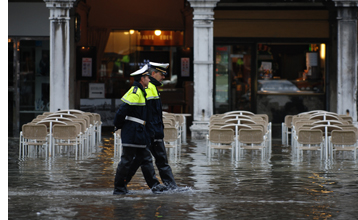 The great thing about the high tide was Campo S. Marco was peaceful and empty. If you could wade to a raised spot, you were alone except for everyone on the edges. What a beautiful sight.
We did go into the Palazzo Ducale for a look at the Venice and Islam Exhibition, which had some beautiful pieces, and took a quick stroll around the Museo Correr. Then we went back out to the square, and enjoyed the flooded square some more.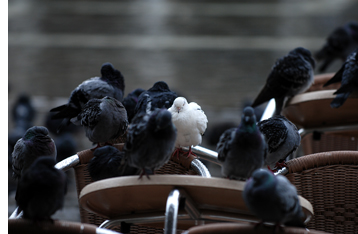 What really made it pleasant was that even the pigeons kept to high ground, perching on the chairs of the flooded cafes.
Last night, by the way, we had a stunning meal in Al Fontego Dei Pescatori in Cannaregio. Highly recommended Venetian fare (my Venetian partner in crime compared it to her mama's cooking – high praise indeed). Make sure you peruse their excellent wine list, and leave room for the sublime desserts if you visit!