Ice Cream in Space?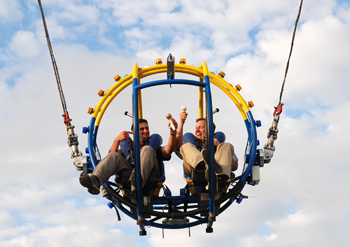 My brother Sean and Cian, our temporary Dingle Shop Manager, decided in a moment of madness to bring ice cream into space.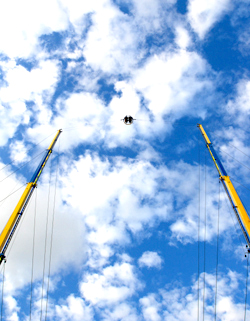 Well, maybe not space, but about as high as you can get in Dingle.
At the moment, we have this crazy bungee contraption in town that basically hurls you a hundred meters into the air.
Credit to Sean, who is afraid of heights. Not only did he muster the courage to do it, but he sweet-talked the ride operator into letting him bring along ice cream.
There were a few mishaps, but perhaps it's better to show it than explain it because there is video footage of the event, and I'll post it just as soon as I can. It's pretty funny…
I'm kind of jealous and might have to have a go myself this evening…
Here's the video:
Technorati tags: bungee, Dingle, ride, space, ice cream
This entry was posted on Thursday, August 9th, 2007 at 6:11 pm and is filed under Videos, Photos. You can follow any responses to this entry through the RSS 2.0 feed. You can leave a response, or trackback from your own site.