Una's First Ice Cream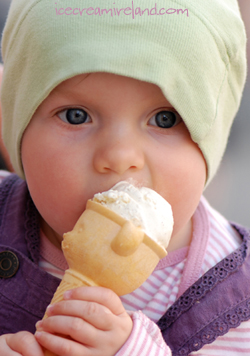 It was a busy weekend in the shop, and one highlight was Copernicus stopping in for some coffee. Another big highlight was that my brother Sean's baby Una had her first taste of ice cream. Una's grandmother is visiting, and as we all know, grandmothers can be much easier to convince than mothers. Sean's wife, Wiebke, has been very strict about keeping ice cream away from the baby, but when Una was in the care of her grandmother and reached for the ice cream, she got it.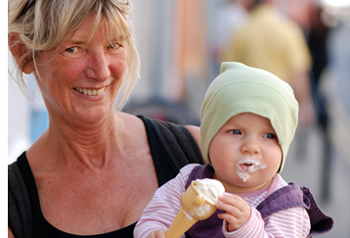 It's wonderful to see the expression on a baby's face at the first taste of ice cream. It's so different from what they have experienced, especially in terms of temperature, so there is always puzzlement, shock, and delight.
Of course, Una found it just as interesting to stick her fingers in the ice cream as she did eating it…
Technorati tags: baby, Una, ice cream
This entry was posted on Monday, June 11th, 2007 at 10:47 am and is filed under Caught with Ice Cream. You can follow any responses to this entry through the RSS 2.0 feed. You can leave a response, or trackback from your own site.