Staffing Shortage in Dingle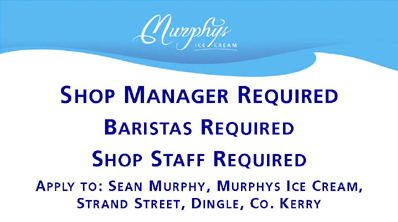 It often is hard to find good staff in Dingle, but this year things are verging on the ridiculous. Our shop manager, Russell, is leaving us, and we're going into the season short four people in our Dingle shop. We have ads in and notices up, and we are getting very few replies indeed.
Staff shortages are a Dingle phenomenon, at least when it comes to the service industry, and the situation has become more difficult in recent times. We have loads of interest every time we hire in Killarney, but take a walk through Dingle, and you will see a parade of help-wanted signs in shop and restaurant windows. If it wasn't for the influx of foreign nationals, I think Dingle would have to shut down.
What to do? It's always been possible to pick up a few college students, but that doesn't help much come October, when we still need staff and students are back in school. We need a core of permanent employees.
It would seem that people like myself and my brother, who think that living in Dingle and working in an ice cream shop is about as cool as it gets, are very rare indeed…
Technorati tags: Dingle, staff, help wanted, job
This entry was posted on Sunday, May 27th, 2007 at 4:45 pm and is filed under Dingle. You can follow any responses to this entry through the RSS 2.0 feed. You can leave a response, or trackback from your own site.