Election 2007 – Pat Rabbitte, TD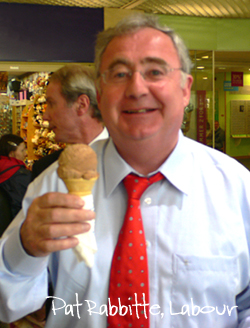 My brother Sean caught up with Pat Rabbitte, the Labour leader in Tallaght, where he (Pat) was mobbed by reporters and supporters. Still, he did have time for an ice cream…
Here's the fact file:
Candidate: Pat Rabbitte, TD 
Party: Labour (Chairperson)
Constituency: Dublin Southwest 
Flavour: Seaclaid (chocolate)
Position on ice cream: "If I am in the next government, I will ensure that everyone in Ireland will have access to Murphys Ice Cream."
Technorati tags: candidate, Irish election, Pat Rabbitte, Labour Party, ice cream
This entry was posted on Tuesday, May 22nd, 2007 at 3:34 pm and is filed under Caught with Ice Cream. You can follow any responses to this entry through the RSS 2.0 feed. You can leave a response, or trackback from your own site.