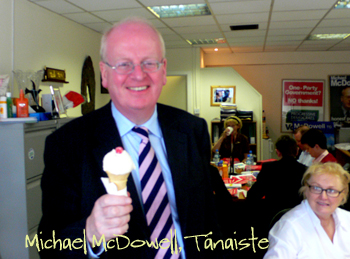 This evening, Sean met Michael McDowell at his constituency office in Dublin, where the Justice Minister had returned after a long day on the campaign trail. Mr. McDowell kindly made time for a photo.
Here's the fact file:
I think this will be the final one in the series, as tomorrow there is no campaigning… Best of luck to all the candidates, and my apologies to all the ones we missed! 
Technorati tags: Irish election, Michael McDowell, Progressive Democrats, ice cream