Election 2007 – Enda Kenny, TD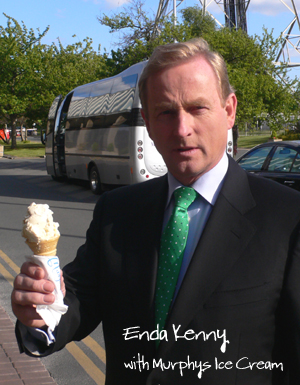 My brother Sean recovered sufficiently from his chocolate tasting in Dublin (yes, I'm still jealous) to find Enda Kenny, the leader of Fine Gael. Sean reports that the possible future Taoiseach was warm and friendly and clearly has his finger on the pulse of the ice cream community (see position statement below).
Here's the fact file:
Candidate: Enda Kenny 
Party: Fine Gael (Leader)
Constituency: Mayo
Flavour: Caramal (Honeycomb)
Position on ice cream: "I love ice cream. I would have it for breakfast."
Technorati tags: candidate, Irish election, Enda Kenny, Fine Gael, ice cream
This entry was posted on Tuesday, May 22nd, 2007 at 8:42 am and is filed under Caught with Ice Cream. You can follow any responses to this entry through the RSS 2.0 feed. You can leave a response, or trackback from your own site.