Election 2007 – John Hickey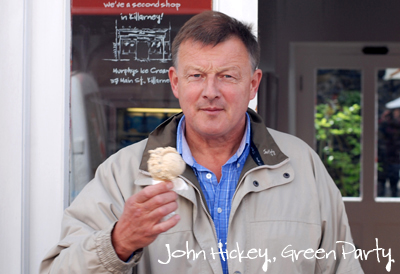 Here's the third in the series. It's great to know that the Greens like ice cream! 
I met John Hickey, the Green candidate at the Dingle farmers market. He was kind enough to come back to our shop for a photo. He lives locally (near Annascaul), and we had a good chat about how we could use green energy in our factory.
Here's the fact file:
Technorati tags: candidate, Irish election, John Hickey, Green Party, Kerry, ice cream
This entry was posted on Friday, May 18th, 2007 at 3:00 pm and is filed under Caught with Ice Cream. You can follow any responses to this entry through the RSS 2.0 feed. You can leave a response, or trackback from your own site.