Election 2007 – Jackie Healy Rae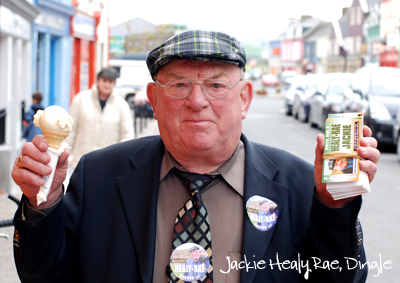 Here's the second in the series! I think for the next one I should ask some pertinent questions such as "What's your position on ice cream?" If anyone has any ideas for ice cream, chocolate or coffee related questions for the candidates, let me know…
In case anyone was wondering, here's the fact file:
Technorati tags: candidate, Irish election, Jackie Healy Rae, Kerry, ice cream
This entry was posted on Sunday, May 13th, 2007 at 4:06 pm and is filed under Caught with Ice Cream. You can follow any responses to this entry through the RSS 2.0 feed. You can leave a response, or trackback from your own site.