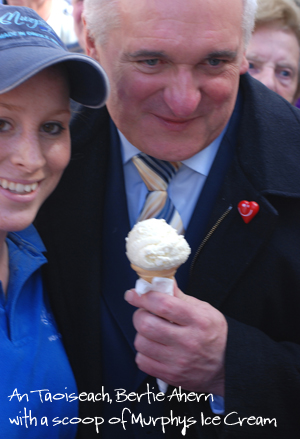 Maman Poulet writing on Irishelection.com a little while ago, put the idea into my head that I might get a photo of Jackie Healey Rae with an ice cream.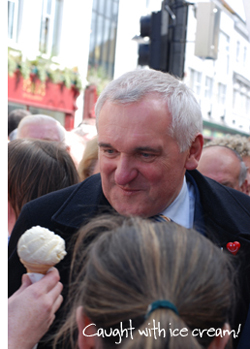 I've been thinking it isn't a bad idea at all. In fact, my brother and I had always talked about a "Caught with Ice Cream" series, where we might stick our ice cream into the hands of various people and take the photo.
If we were to start with candidates in this tight election year, how many would pose?
Today I received a tip that Bertie Ahern, the Taoiseach, would be in Killarney. Why not? I grabbed the camera.
Deirdre, from our Killarney shop, kindly assisted by scooping and passing the cone to Bertie so that I could snap the shot.
Although there was a big crowd around him, we got through, and the Taoiseach was gracious. I didn't get as many photos as I had hoped since I was muscled out of it by members of the legitimate press who couldn't resist the ice cream photo opportunity. Still, it was a good start.
Now, who is next?
Technorati tags: Killarney, Irish election, Bertie Ahern, Taoiseach, ice cream