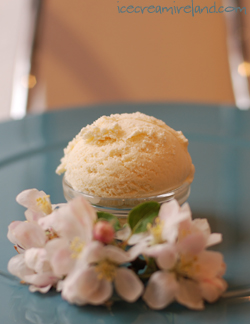 As summer is coming on, we wanted to make a floral ice cream. I've also wanted to make ice cream with Manuka honey for a long time. This strong flavoured New Zealand honey comes from a plant used by the Maori for medicinal purposes. We decided to combine it with essence of orange blossom, and the result was delicious!
Murphys Manuka Honey and Orange Blossom Ice Cream
Ingredients: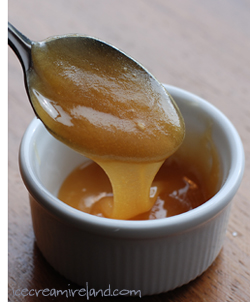 1 Cup (237ml) Sugar
5 Egg Yolks
1 1/8 Cups (266ml) Cream
1 1/8 Cups (266ml) Milk
1/2 Cup (118gm) Manuka Honey
1 Teaspoon Orange blossom water
Yield: 6 Servings
1. Mix the sugar and egg yolks and beat until thick and pale yellow.
2. Bring the milk to a simmer.
3. Beat the milk into the eggs and sugar in a slow stream.
4. Pour the mixture back into pan and place over low heat. Stir until the custard thickens slightly (around 70C). Use a thermometer, as at 75C the eggs will scramble!
5. Stir in the honey.
6. Allow the custard to cool.
7. Add the orange blossom water.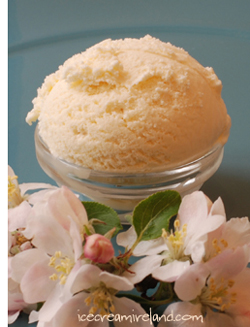 8. Whip the cream.
9. Gently fold in the custard.
10. Freeze using a domestic ice cream machine, or cover and place in the freezer, stirring every few hours to break up the ice crystals.
Notes: 1. We used a natural French orange blossom water (aroma). You might well need to adjust the volume depending on the flavouring you find.
2. I like a strong honey flavour. If you want something more subtle and floral, use half the given amount of honey.
3. The discerning horticulturist will know that those are apple blossoms in the photo. Sorry for that, but orange trees are in short supply in these parts!
4. I haven't yet made this recipe for home use, so I would love any feedback if you try it!
Technorati tags: manuka honey, orange, blossom, ice cream, recipe, Irish