New Coffee Suppliers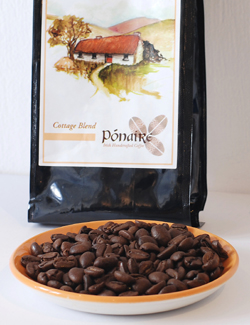 There seems to be more and more new companies roasting their own beans for the ever-increasing Irish coffee market. We've just received a sample of beans from the latest – Ponaire (the name is "bean" in Irish), a family operation in Tipperary.
The quality is very high, with a mild, smooth taste, and I would be happy to recommend them to anyone in the Midwest region. We'll stick with our existing beans, though, since we're happy with them (and our suppliers) and since they are Fairtrade…
Technorati tags: espresso, fairtrade, Ponaire, coffee, Tipperary, bean
This entry was posted on Tuesday, April 3rd, 2007 at 9:49 am and is filed under Coffee. You can follow any responses to this entry through the RSS 2.0 feed. You can leave a response, or trackback from your own site.