Happy Birthday to I.C.I. (Me)!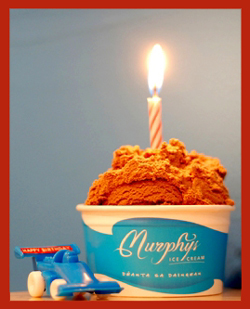 Today, Ice Cream Ireland turns one. Yes, it's been a full year since I started this blog while on vacation in Morocco in February 2006! Thanks to almost 20,000 of you who have checked out the site, and especially those of you who have found your way to Murphys Ice Cream.
There have been several high points to my first year of blogging including:
It seems that they like me in Philadelphia, where it seems I've been chosen with 10 other sites to make up their "Best of the Web 2007 (Food)." Much appreciated indeed!
Appearing in the Irish Times technology section together with other Irish bloggers.
The links and feedback from so many of you. Thanks again!
I've put together a little poll to help me with my focus over the next year, and here it is:
n
Now it's time to eat my ice cream!
Technorati tags: blog, blogging, Kerry, ice cream, recipe
This entry was posted on Friday, February 9th, 2007 at 6:10 pm and is filed under Musings. You can follow any responses to this entry through the RSS 2.0 feed. You can leave a response, or trackback from your own site.