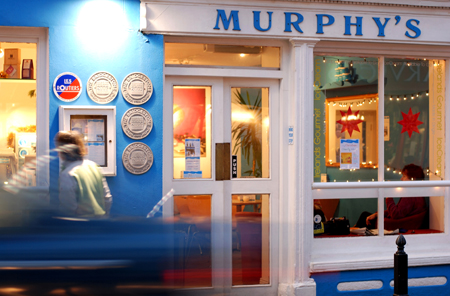 I got a package in the post yesterday – the folks at Leica managed to resuscitate my old camera, which is quite amazing, given that it was dumped in the sea. Either that, or they gave up on the repair and sent me a new one (perhaps more likely since it's positively gleaming).
However, I have to say my cheating heart has been completely won over by my new Nikon D80 in the meantime, and I also love the 1.4 fixed lens I bought for it. It lets in so much light and makes so many things possible.
The above photo was taken just before the Dingle shop closed for the season, just after dark, without a flash. I used a tripod. The blur is a passing car.
Change back from the D80? I think not. I do still love the Leica, though, and I guess it will be my travel camera, since it's so much more compact…
Technorati tags: digital, camera, Leica, Nikon, d80, photography