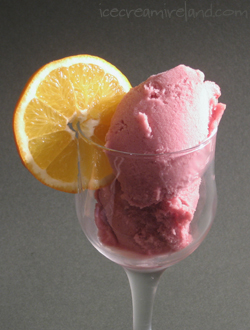 The excellent Ard Bia Cafe in Galway asked for a mulled wine sorbet for their Christmas menu, so I set about making it. It's quite a nice flavour, and if you're looking for a holiday ice cream to add spice to a meal, give it a go!
The easiest way to make it is to use left-over mulled wine (stir 350gm sugar into 950ml mulled wine until dissolved, allow to cool, freeze), but if you don't have that kind of restraint, here's a recipe from scratch:
Murphys Mulled Wine Sorbet
Ingredients:
360 gr Sugar
600 ml Spring Water
350 ml Red Wine (I used Merlot)
225 ml Fresh Orange Juice
Juice of half a lemon
2 Cloves
1 tablesp. Cinnamon
1/2 teasp. Nutmeg
Yield: 8 Servings
What to do:
1. Combine the sugar, water, wine and spices and cook over low heat, stirring occasionally for about 1/2 hour, maintaining at a low simmer.
2. Strain to remove the cloves.
3. Cool completely.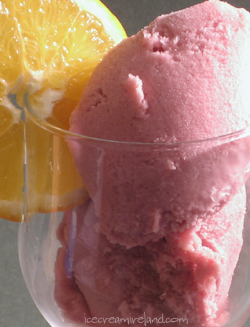 4. Stir in the orange juice and lemon.
5. Freeze using a domestic ice cream machine, or cover and place in the freezer, stirring at 1 hr intervals to break up the ice.
6. Remove from freezer and allow to thaw four about 15 minutes before freezing.
7. Serve garnished with a slice of orange.
Notes:
1. It's hard to make sorbet without an ice cream machine. You will need to interrupt the freezing process and stir, or you will be left with a block of ice! The more times you do this, the better the consistency will be.
2. I think it looks well served in small wine glasses.
Technorati tags: mulled wine, holiday, sorbet, ice cream, recipe