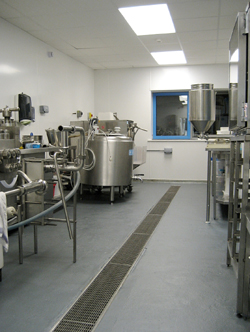 When you're in the ice cream business, one of the important things is to take advantage of the slow season, because there's little else one can do in the summer month other than churn out product as fast as you can.
The off season is all about house-keeping and planning. So this week we've been painting in the production and warehouse, and it's great to have a gleaming "new" floor in the lab.
I think I will baptise it tomorrow by playing with hot chocolate. I've been wanting to do some variations on our basic recipe. I'll keep you posted!
Technorati tags: production, paint, ice cream