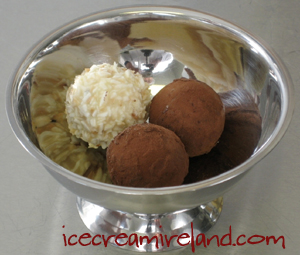 Today was most enjoyable as we were lucky enough to have Monsieur Frederic in production, sent from one of our suppliers, Odaios Foods.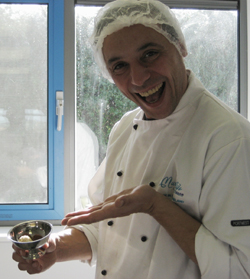 We had asked for suggestions for improving my ice cream truffles (they had happily received the samples we sent up) and in enhancing the decoration of our ice cream cakes. They have an interest in such things, since they are also our distributor on the East coast, and they kindly sent a very helpful consultant chef.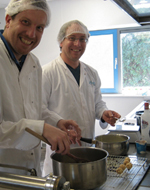 For the truffles, I made a base of passionfruit and peach schnapps ice cream, and we filled it into chocolate shells, then rolled them in toasted coconut or cocoa. Quite tasty indeed.
Then we moved on to decorating ice cream cakes, playing with enrobing the whole cake in chocolate.
Fred was full of ideas, and it was the first time in ages that both my brother and I were together in production with the pots and the pans. We should have more days likes these!