Ice Cream Truffles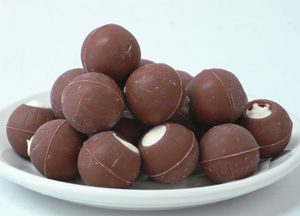 Even though it's busy season, and most of our attention is going into keeping the shops in ice cream, we've been playing around with the idea of making ice cream truffles here in the world of ice cream.
I don't know if it's a silly idea, but it seems to me that it might be pretty interesting to have a gold box of ice cream truffles in the freezer cabinet of a specialty food shop. It could make an impression at a dinner party.
We've just started fooling around with it, but it's a tasty treat. I would love to get any feedback. Would you buy such a thing?
Technorati tags: chocolate, truffle, ice cream
This entry was posted on Wednesday, June 28th, 2006 at 10:27 am and is filed under Tips & Tricks. You can follow any responses to this entry through the RSS 2.0 feed. You can leave a response, or trackback from your own site.