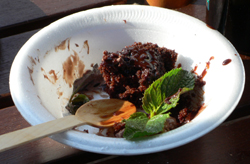 Yesterday my brother and I went to the Taste of Dublin at Dublin Castle. The idea was to be able to sample some of the dishes of Dublin's best restaurants, including Roly's Bistro, L'Ecrivain, Chapter One, Diep le Shakar. In addition, there were food producers handing out samples or selling their wares, and cooking demonstrations by chefs.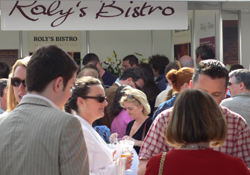 The afternoon was sunny, and a huge crowd turned up. The wine flowed, the music pumped, and the various restaurants churned out small portions of their dishes on paper plates.
We met some friends there and had a good time, although it was a bit disappointing to see many big corporations such as the ubiquitous Starbucks along side the small Irish producers.
Today, on a damp, cold morning, we visited a few of our customers in the city and then headed home. As I crossed the border into Kerry, the weather improved, and it struck me as always just how lucky I am to be living in such a beautful place. I headed out the Dingle peninsula toward the sun listening to John Kelly's Mystery Train and very happy to be out of the city and back home.

Technorati tags: Dublin, restaurant, food, taste, Kerry