Skelligs Chocolate Co.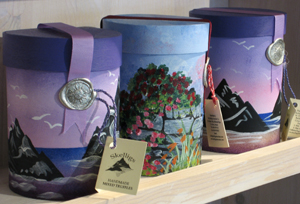 Today Colm from the Skelligs Chocolate Co. came into our Killarney shop to do a tasting. It's never any harm to do such a thing, and I certainly got in my few nibbles. I had to leave to come back to Dingle, but hopefully our customers there tasted a good bit of chocolate!
We will try to stock more of his chocolates across both shops coming up to Christmas, as part of our Irish chocolate range, and we suggest anyone heading out on the Ring of Kerry check out their factory shop in Ballinskelligs…
Technorati tags: chocolate, Skelligs, Irish, Ireland
This entry was posted on Saturday, October 21st, 2006 at 5:07 pm and is filed under Chocolate. You can follow any responses to this entry through the RSS 2.0 feed. You can leave a response, or trackback from your own site.