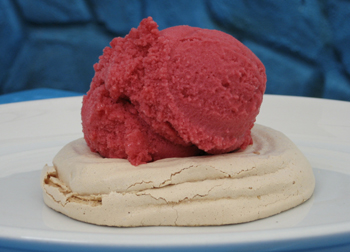 I wrote here about ice cream cakes, and I've been playing with a meringue base for them. We have excess egg whites from making our ice cream, so it makes sense. Besides, it would make the ice cream cakes gluten-free.
Meringues are not hard to make, and they are a great treat. Whether on their own or as a nest for another dessert (as in with the raspberry sorbet in the photo above), they are a real crowd-pleaser. I like them with a little hint of lemon.
Murphys Meringues Recipe
Ingredients:
4 large egg whites
300gm (1.5 cup) sugar
1 tsp. vanilla
1 tablespoon lemon juice
What to Do
Preheat the oven to 140C.
Butter a large baking sheet.
Beat the egg whites (if using an electric mixer, do this at medium speed rather than high speed, which will take a bit longer but give the meringues more strength) until fairly stiff.
Beat in the sugar in a slow stream, and then add the vanilla and lemon, mixing all the time.
Beat until very stiff and shiny.
Using two spoons, place on the baking sheet. It should make 10 large meringues, so divide accordingly.
You can shape them as you wish!
Bake for 45 minutes.
Cool on wire racks.
Note: If you want to make nests, the easiest way is with a piping bag. Start in the centre, work out in a tight spiral, then build up the sides… 
Technorati tags: meringue, recipe, ice cream, dessert, baking