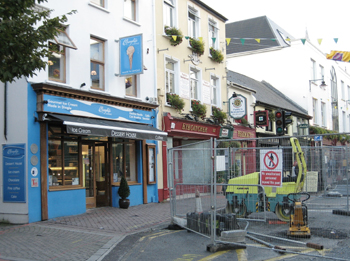 It's not so nice outside our shop in Killarney at the moment, as they are digging up the street. The idea is to make Main Street more pedestrian-friendly by widening the sidewalks and reducing the traffic down to one lane, one way.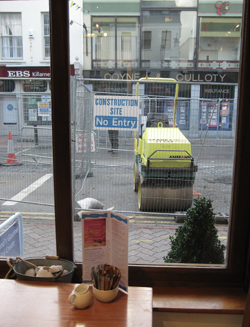 So, for the next 6 months or so, we will be trading in a construction zone. We can only hope that work will be completed as promised in March.
Although it would seem that Main Street will look well after the project is done, it's a question whether further pedestrianization of towns is a good thing.
On the one hand, it's great to put in benches and have wide sidewalks. On the other hand, the more you restrict traffic into a town, the more likely it is that people will find it too difficult to come in and do their shopping on the outskirts. It's already a bit of a chore to navigate into the centre, and parking is limited and expensive.
Tralee is a case study, and it wouldn't inspire confidence. Streets have been completely pedestrianised, the square redone and blocked from traffic, which looks nice and is pleasant for strolling and shopping.
The problem is that fewer people seem to be coming into the Tralee centre for the pleasure. It's just simpler to go to Manor West Shopping Centre, outside of town, which is easy to get to and has plenty of free parking…
Technorati tags: construction, Killarney, Kerry, Main Street, town, shopping