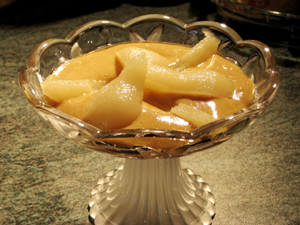 One of my favourite desserts is zabaglione, a rich Italian custard, made with Marsala wine. It's complex, not too sweet, and packs a nice alcohol punch. I've had a bad cold the past few days, but today I felt recovered enough to pull out the pans and treat myself.
Pear and Ginger Zabaglione
Ingredients:
2 poached pears (see here)
5 egg yolks
100 g sugar
1 teaspoon fresh ginger, grated
200 ml dry Marsala wine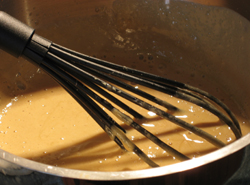 What to Do:
1. Beat together the egg yolks and sugar until they turn pale yellow.
2. Add the Marsala wine, beating all the time.
3. Add the ginger.
4. Transfer to a double boiler (I used a metal bowl over a pan of water).
5. Continue whisking the mixture until the volume doubles and coats the back of a spoon.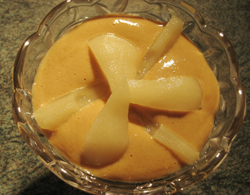 6. Remove from the heat and allow to cool.
7. To serve, distribute the custard among 4 bowls and top with the poached pears.
Serves 4
Note: This dessert works well with many different fruits – strawberries, peaches, etc. Have fun and experiment.
Technorati tags: pear, ginger, zabaglione, dessert, recipe