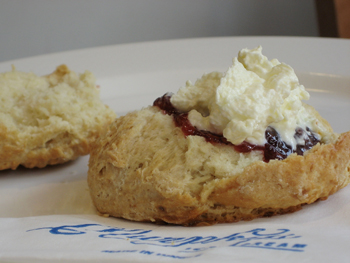 Back in 2000, when we first opened the ice cream shop in Dingle, we served scones. Within a short amount time, however, we discontinued them.
The reason was that we were having trouble making people understand that we were a high-quality, gourmet ice cream cafe, since that concept didn't exist in Dingle. Back then, we found that serving scones was a negative positioning statement – it was what cheap cafes offered along with thin coffee and white bread ham sandwiches.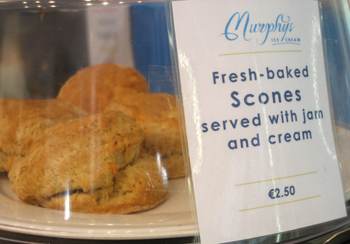 Times have changed, however, and we have always felt that a good scone, served with cream and jam, however, is a tasty treat.
So they are back for a trial run in the Killarney shop only, baked fresh every morning, and when we sell out – that's it for the day.
So far it seems to be working well, and it does give people another option, especially early, when they might not yet be in the mood of cake or ice cream…
Technorati tags: Killarney, scone, cream, jam, baked, pastry