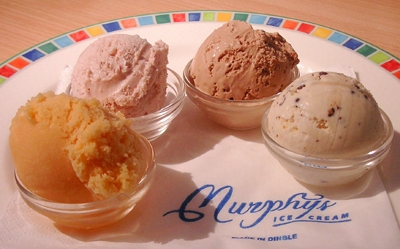 We're always tinkering with new flavours here, and above are four that the production team recently sent into the shops. (I apologise about the quality of the photo – it's such a let-down to return to my old camera after the incident with the Leica).
During this busy time, I've been in the Dingle shop almost constantly rather than tinkering with the ice cream, which is really what I like to do best. However, JP, Neil and Christophe have been more than able to come up with some interesting flavours.
1. The first on the left is a carrot, celery, and orange sorbet. The celery gives it a nice fresh taste.
2. The second is slow-cooked raspberry ice cream using the fruit from Sweetbank farm. We've done this flavour before, but it's been refined.
3. The third is really sublime if you like nuts – milk chocolate with almond, caramelised hazelnuts and Irish whiskey (Neil's creation).
4. The last is the Valrhona chocolate craquantes in a vanilla base.
Yum!