Up on the Farm
I just brought a load of ice cream to Sweetbank Farm in Wicklow, and it's great to see them about to open up the farm shop for their second season (June 1st is the first day they open).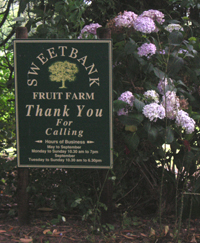 For anyone who hasn't been, a visit is highly recommended. David and Debbie know their fruit, and their little shop is lovely. The old farm buildings are built around a courtyard, and the stalls hold a variety of animals that are great entertainment for kids. They also have fresh meats, a scooping cabinet with the efforts of yours truly, and an array of other goodies.
Devouring a bowl of fresh fruit with cream and a coffee in their picturesque courtyard on a nice sunny day is about as good as it gets! Their efforts are a lesson in agritourism!
We will be taking delivery of some of their fruit for our ice cream within the next few weeks, and anyone who has had our Wicklow raspberry, strawberry or tayberry ice cream will know what a treat their fruit is. This year they have also promised us cherries. Mmmmm!
Technorati tags: agritourism, ice cream, farm, fruit, Wicklow
This entry was posted on Friday, May 26th, 2006 at 9:06 pm and is filed under Ingredients. You can follow any responses to this entry through the RSS 2.0 feed. You can leave a response, or trackback from your own site.