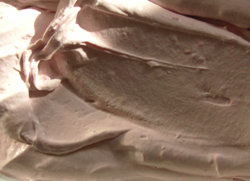 I am now back in Ireland and back to work. The cold shouldn't be such a shock, but it is!
I made ice cream over the last two days, including most of our usual flavours, but the interesting thing is that I retrieved something special from the freezer. In Wicklow, there is a farm called "Sweetbank Farm," and they grow some of the most amazing fruit. They have a farm shop and are definitely worth a visit during the season.
Last summer, they gave us a good amount or raspberries, tayberries, and other delectables and delighted many customers.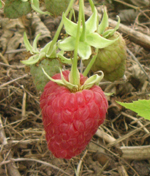 We also froze some raspberries, and I dug them out to make some ice cream, thinking that there is nothing better in the cold of February than a taste of summer. So I made two batches, one simply with raspberries, the other with raspberries and dark chocolate shavings.
Putting fruit in ice cream can be tricky as the water in the fruit turns to ice, making it quite unpleasant. There are two tricks – alcohol and sugar. Soaking fruit in alcohol (rum raisin is an obvious example) keeps the fruit soft in ice cream. Soaking or cooking it in sugar also does the trick.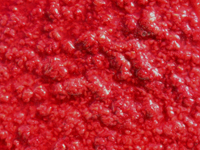 Since the raspberries were off the farm, I decided cooking was the best route, as it also pasteurises away any bacteria that might be lurking. I used about 10% sugar to volume, added about 5% lemon juice, cooked to a boil (see above), and then cooled immediately. If you try this, don't cook it for long, or the fruit will lose all its fresh taste and will taste like jam!
Anyway, the result was very tasty indeed, and we'll see what our customers say when it hits the shops!