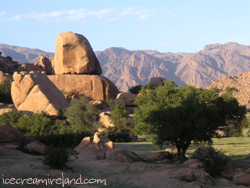 In Tafraoute, the landscape is miraculous with strange rock formations like pink Henry Moore sculptures and a swathes of yellow flowers that turn dazzling in the sun. The almond trees were in blossom – ghostly white, and snow capped the mountain tops. Tafraoute has fewer tourists than it should, and it certainly was a highlight of the trip.
The breads in general were excellent, the best we have tasted so far, as were the breakfast pancakes called Beghrir. Both are made with semolina and maybe its the water there or the mountains – in any case how simple and wonderful. The pancakes in the morning served with honey and accompanied by a cafe au lait, the bread after a hike in the hills…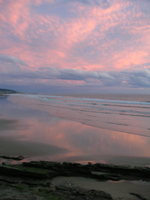 I will post a recipe when I get home and try it out myself. I bought a Moroccan dessert cookbook in French and so it will take a little work!
I am back at the coast now and the sunset was glorious. Two weeks is not a lot to spend in this country. I recommend it very highly, and it was a bargain (379 euro including flights from Shannon and accomodation in Agadir though Sunway, which is so cheap that you don't hesitate skipping out of town and making your own way around).
I will miss Morocco!