There are many people who think that there is difficult to eat out well in Killarney. For the most part, I agree, perhaps because there has been little incentive for restaurants to change or improve. There are just a handful of places that I know of that are good value and interesting.
Lunch at the Park Hotel bar is an old standby and definitely recommended, and besides that it's worth looking at some of the ethnic entries into the restaurant market. One of the benefits to the New Ireland with its immigration is the proliferation of ethnic cuisine.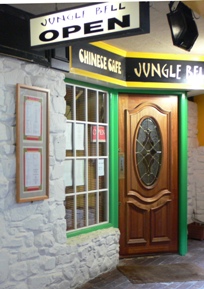 The best of the Chinese is the rather tragically named Jungle Bell that is hidden away in the Inisfallen Centre off Main Street. It's quite a bargain and a good find for those who don't want to spend a fortune.
Just opposite and up the stairs is an excellent Thai restaurant, Genting Thai. I'm regularly in there for the phad thai.
If you feel like cooking ethnic at home, also in the Inisfallen Centre is an Asian and African market that's definitely worth a look.
The best of the Indian restaurants is the very popular Bombay Palace on College Street, and you couldn't go to wrong eating there.
There certainly are other places to eat, and I'll come back to this later. It's definitely worth doing your research!
Technorati tags: eating out, Killarney, Kerry, Restaurant, chinese, ethnic