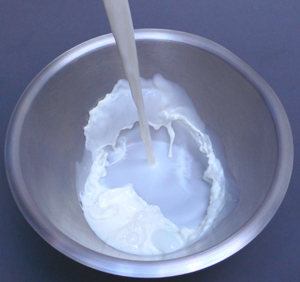 We're making good progress using the Kerry Cow milk here in ice cream land. Today we made our second batch, and it's a big improvement from the last one.
Milk straight from the farm is such a different proposition from milk bought in the shop, and it's wonderful to have it in its pure form, with the thick cream rising to the top of the churn and the farm-fresh smell of it. Technically, though, it's a bit of a challenge. It's amazing how a single ingredient can change the whole taste and feel of a batch.
It will take us a little while to get it right, but I'm sure the ice cream will be greatly improved. It's no harm as well to be able to support a local farmer, even in our own small way, and I hope that small food producers such as ourselves will be able to make a difference with keeping Irish farmers on the land.