Strawberry Cake and Cadbury Recall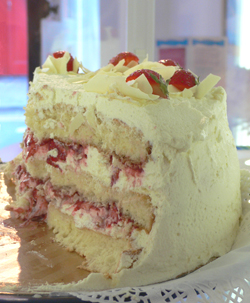 Our baker Wiebke is back in Dingle full time and seems to have reached a superwoman stage to her pregnancy. She is churning out her fabulous cakes, such as the strawberry cake above, and they are devoured by happy customers in the shops just about as quickly as we put them out! I will have to see if I can get her to part with some of her recipes and techniques for my readers here, but she is quite secretive…
In other news, I was given a copy of the Guardian over the weekend, and there on the front page was an article about the Cadbury recall due to Salmonella in their product. What amazes me is that I haven't heard anything about it here in Ireland, although the FSAI does have a mention of it on their site. Maybe I missed it in the mainstream press, but it sure seems a big story. Salmonella is a nasty bug, and the tolerance for it should be zero. (Cadbury claims the amounts were small, but according to the Guardian article, it seems that some people did indeed get sick).
What's really astonishing is that the company knew about it since January but only disclosed it in June (seemingly after pressure on their lab from the British FSA). There have been more than a million bars recalled, and there are 30 more Cadburys products being tested.
There's also a bit about it on Candy blog.
Technorati tags: Cadbury, salmonella, strawberry cake, recall
This entry was posted on Monday, July 3rd, 2006 at 2:13 pm and is filed under Musings. You can follow any responses to this entry through the RSS 2.0 feed. You can leave a response, or trackback from your own site.