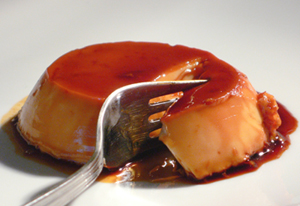 Creme Caramel (or "Flan," as it's known in Spain) is really one of my favourite desserts, and it's much easier to make than many people might think. The only difficulty for some would be making the caramel, which is easy to burn. However, I'm amazed it's not prepared more often, for guests are always "wowed" by this treat!
The most usual flavouring would be a little vanilla, but I like the kick of fresh ginger, so that's the recipe I will pass on here.
Ginger Créme Caramel (Flan) Recipe
Before you get started, gather up the following:
6 ramekins, a small heavy saucepan, a sieve, a heatproof bowl, and a baking dish large enough to hold the 6 ramekins.
Part 1 – The Caramel
Ingredients:
150 ml sugar
1-2 tablespoon water
What to do:
Pour the sugar in the saucepan, followed by the water.
Cook over medium heat without stirring.
Watch carefully. When it begins to brown, stir until the caramel is a deep amber colour, but not burned.
It happens pretty fast, so take care. It is also very, very hot!
Immediately pour into ramekins, dividing it among the 6 before it hardens.
Part 2 – The Custard
Ingredients:
500 ml milk 
1 tsp. fresh sliced ginger
1 vanilla bean or 1 ½ tsp vanilla sugar
2 eggs
4 egg yolks
100 ml sugar
What to do:
Preheat oven to 170C.
Pour the milk into the saucpan with the fresh ginger and cook over medium heat. When it is hot, reduce the heat and leave it simmer for about 5 minutes.
Whisk the eggs, egg yolks and sugar together in a bowl.
Pass the milk through a sieve to remove the ginger pieces.  
Slowly pour the milk over the egg mixture, stirring all the time, but try not to agitate too much or it will be very foamy.
Once the eggs and milk are fully incorporated, again pass it through the sieve to remove any hardened bits of egg.  
Pour into ramekins.
Place the ramekins in a baking dish, and fill the baking dish with enough hot water to reach 1 cm below the rims of the ramekins. (You are creating a hot water bath for the custard).
Bake for about 30 minutes, until firm to the touch.
Remove from the oven, and immediately go to the next step. (If you wait, the caramel will harden).
Cut around the edgle of the custard with a knife to loosen it.
Invert the ramekins on plates to deposit the custard, pouring out any excess caramel.
Serve immediately.
Notes: 1. You can substitute 1 tsp vanilla for the ginger, if you don't care for it…
2. You can pull the remaining caramel at the bottom of the ramekins into decorative sugar threads as I have done in the photo on the right.
Technorati tags: caramel, creme, recipe, flan, ginger, dessert